Top athletes in combat sports recognized the effectivness of the Namman Muay® Thai cream making it the product to go for sport injury treatment. Professional fighters face dangerous situations every day during training and competition. Immediate care is required for these athletes in order to perform at the highest professional levels.
The Thai oils were originally concieved for western-style boxers who put their body to enormous stress during fights. The many benefits of the Namman Muay® Thai oil for the athlete's body when used pre & post exercise were quickly recognized by Muay Thai fighters around the world.
Buakaw Banchamek
Buakaw Banchamek is Muay Thai and kickboxing legend. His real name is Sombat Banchamek (สมบัติ บัญชาเมฆ), but when fighting he goes by the name of Buakaw Banchamek ("Buakaw" means "White lotus" in Thai). Buakaw became Thailand's biggest sport ambassador after a successful transition to the kickboxing circuit by winning two prestigious K-1 World MAX titles in Japan. We proud ourselves that Buakaw is part of the Namman Muay® sponsored athletes.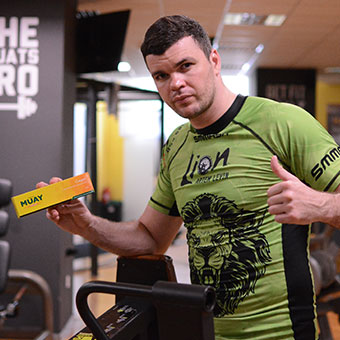 Artem Levin
Artem "The Lion" Levin is multiple kickboxing and Muay Thai world champion. Artem is known for his creative and unpredictable fighting style that won him the Glory middleweight World title in Los Angeles among other professional titles such as WBC, WMC, WKN, It's Showtime and AKBC. He is also 6x IFMA World and 5x European Muay Thai champion. He currently trains at American Top Team in Miami, Florida.
Alfio Romanut
Alfio Romanut is a kickboxing hall of fame coach who's teaching talent created the greatest P4P kickboxer that ever walked on the earth - Giorgio Petrosyan. Romanut created a special fighting system that is rarely seen in kickboxing. It focuses on fighting your opponent at an 45° degree angle in order to nullify your opponent's counter attacks. His fighters are known in the world to have an extremly smart and disciplined style of fighting.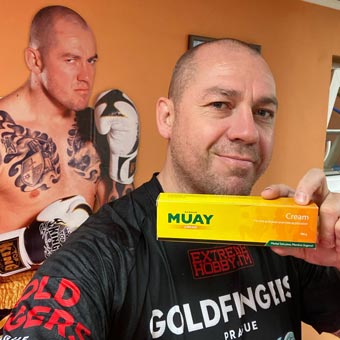 Ondrej Hutnik
Eugenol is a powerful anti-inflammatory and antibacterial agent. In nature is usually found in clove essential oil that is high in antioxidants and has strong anti-inflammatory, antibacterial and and antifungal properties, making it effective for a large variety of common health concerns.
Valentino Domenico
Valentino Domenico is the Italian lightweight boxing phenom. Valentino's achievements speak for themselves; he won 4x gold, 1x silver, 2x bronze European Champion and 1x gold, 1x silver, 3x bronze boxing World champion
Uros Jurisic
Uros Jurisic is a Slovenian UFC fighter from Slovenia, known for agressive striking style. Fighting out of American Top Team in Miami Floria, Uros is the current Titan FC welterweight champion with an unblemished score of 10-0. Jurisic is the latest addition to the stable of Namman Muay ® sponsored athletes.